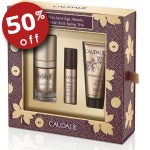 Caudalie Ultimate Anti-Aging Trio (3 items set) $168.32 USD

$84.16 USD

Convert
A luxurious trio powered by three of our signature patents to dramatically reduce visible signs of aging.

Instantly enhance the look of your eyes with Premier Cru the Eye Cream, our bestselling peptide packed eye cream that leaves the eye area perfectly hydrated, smoother, brighter, and visibly firmer. It instantly illuminates with natural pearlizers and soft-focus powders, and immediately lifts with active peptides. Dark circles and puffiness are reduced, and the eye area is brightened with renewed youth.
This power-packed serum is a natural and effective time machine for the skin. It re energizes sluggish skin cells so they act younger and perform their critical functions, like natural collagen synthesis more effectively. With every application, skin cells work faster and harder to firm, tone, brighten, and smooth.
There's cream, and then there's Premier Cru Cream. The foundation of the entire Premier Cru line, it took seven years to perfect the elegant, naturally sourced, highly active formula. Referred to as the crème de la crème, it's the ultimate one hit wonder to brighten, tighten, plump, smooth and nourish in one luxurious step.

This set contains:
Premier Cru The Eye Cream 15ml
Premier Cru The Serum 10ml
Premier Cru The Cream 15ml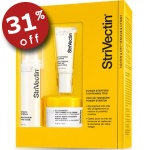 StriVectin » Hand, Body, & Kits



StriVectin Power Starters Tightening Trio (3 items) $129.00 USD

$89.00 USD

Convert
Includes:
- TL Advanced Tightening Neck Cream (30ml /1 floz): neck cream with even more tightening, lifting and firming than ever before.

- 360º Tightening Eye Serum (7ml /.25 floz): Tightens, firms and revitalizes entire eye area for a more youthful appearance.

- Tightening Face Serum (30ml /1 floz): Lightweight lifting treatment instantly tightens skin surface and tones facial contours for a more sculpted silhouette.

A $98.70 USD value!