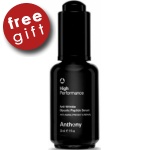 Free! Anthony Logistics High Performance Anti-Wrinkle Glycolic Peptide Serum (30 ml / 1 floz)

This anti-aging, and lifting serum is infused with three key peptides that work to instantly plump and relax deep lines and wrinkles. Buffered AHA's work to correct the appearance of sagging skin and improve the skin's overall health and texture. Algae extract helps repair and hydrate to jump start the skin's rejuvenation process.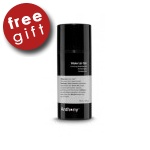 Free! Anthony Logistics Wake Up Call Hydrating Treatment Gel (90 ml / 3 floz)

Late night? Give your skin a wake up call. Aqua Cacteen replenishes dry, dehydrated skin, and Green Tea reduces puffiness and inflammation. Caffeine, an anti-fatigue ingredient, stimulates and firms your face, while Menthol wakes you up in a flash.