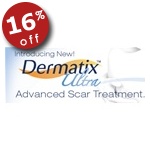 Dermatix Ultra Scar Treatment (15 g) $66.24 USD

$55.35 USD

Convert
Dermatix Ultra Advanced Scar Treatment is designed to improve and diminish the texture, appearance, and discomfort of scars. It has been shown to flatten, smooth, and reduce the discoloration and itching of new and older keloids and scars resulting from surgical procedures, burns, and other injuries. This light formula is transparent, non-greasy, and dries quickly leaving a clean and silky feel. May be used under makeup.

Replaces Dermatix C Gel (15 gr).