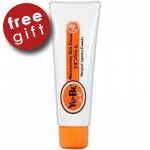 Yu-Be Moisturizing Skin Cream Tube (31 ml / 1 floz)

Free!
With any Yu-Be order of $38.26 USD or more.
This concentrated moisturizer helps hydrate, heal, soothe and smooth severely dry skin. It also helps to heal split cuticles and smooth rough, dry skin on hands, elbows, knees and feet. Protects and moisturizes skin exposed to cold, wind, water and sun. Yu-Be is safe and effective on all dry skin areas on your body including the face.