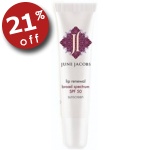 June Jacobs Lip Renewal SPF 50 (14 g / 0.5 oz) $24.00 USD

$19.00 USD

Convert
This nourishing, paraben and preservative free formula helps provide superb, comprehensive broad spectrum protection and maximum hydration. Powerful patent pending anti-oxidant blend of white, red and green tea extracts combined with goji berry, pomegranate and grape seed extracts help neutralize free radicals and protect from environmental toxins to help prevent dryness and moisture loss.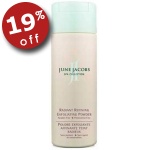 June Jacobs » Masques & Scrubs



June Jacobs Radiant Refining Exfoliating Powder (74 g / 2.6 oz) $52.00 USD

$42.00 USD

Convert
Paraben and preservative free, this unique exfoliating powder activates upon contact with water and gently sweeps away dead skin cells with rice, bamboo, papain and salicylic acid, leaving skin soft, smooth and clarified. Natural brightening ingredients, lemon peel, bearberry root, mulberry root and licorice extract help balance overall skin tone, while tea tree oil and willow bark extract help absorb oil.