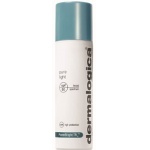 Dermalogica PowerBright TRx Pure Light (50 ml / 1.7 floz) $68.86 USD Convert
This advanced, emollient, daytime moisturizer uses algae extracts to enhanced luminosity and control hyperpigmentation. A powerful peptide helps regulate melanin production while a potent blend of Red and Brown Algae combined with botanical extracts, help balance uneven skin tone. Cross-linked Hyaluronic Acid fortifies the skin's natural moisture barrier, reducing the appearance of 
fine dehydration lines. SPF 50.