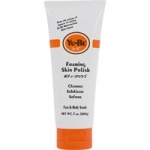 Yu-Be Foaming Skin Polish (200 g / 7 oz) $18.00 USD Convert
Prepare your skin for moisturizing! Cleanses - Exfoliates - Softens. The Japanese bathing ritual or "ofuro" has been an important and sacred custom for many centuries. Baths provide both relaxation for the mind and improved health for the body by stimulating blood circulation.

Scrub away stress and layers of rough, dry skin cells by including Yu-Be Foaming Skin Polish in your "ofuro".

2 Reviews!