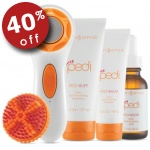 Clarisonic Pedi Sonic Foot Transformation (7 items) $310.00 USD

$186.00 USD

Convert
Designed to smooth and soften dull, rough feet at home or between professional pedicures, the Pedi Sonic Foot Transformation System combines expertly engineered tools with sonically designed formulations to counteract the factors that cause dry, rough patches. Feet – especially heels and toes – become soft, supple and sandal-ready.

A $237.18 USD value!