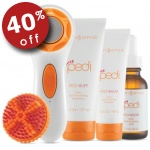 Clarisonic Pedi Sonic Foot Transformation (7 items) $310.00 USD

$186.00 USD

Convert
Designed to smooth and soften dull, rough feet at home or between professional pedicures, the Pedi Sonic Foot Transformation System combines expertly engineered tools with sonically designed formulations to counteract the factors that cause dry, rough patches. Feet – especially heels and toes – become soft, supple and sandal-ready.

A $237.18 USD value!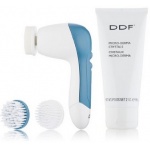 DDF » Moisturizers and Treatments
DDF » Specialties and Masks

DDF Revolve Professional 500X Micro Derma & Daily Cleansing System (6 items) $139.00 USD Convert
Personalized dermatologist-grade Microdermabrasion and Deep Cleansing System for Radiant Skin every day Improves 5 traits of healthy-looking skin in just 1 minute: Fine Lines, Skin Tone, Pores, Smoothness, Brightness. 2x better cleansing than the leading oscillating system thanks to superior 360 degree rotation technology. Results as effective as a professional treatment. As gentle as your hands and suitable for all skin types.