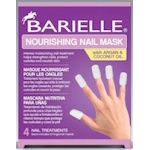 Barielle Nourishing Nail Mask (4 treatments) $8.00 USD Convert
Indulge in your next manicure routine with this 30-60 minute mask. Barielle Nourishing Nail Mask is an easy-to-use, no-mess way to give your nails the care and hydration they need. Infused with nutrient-rich Coconut & Argan Oils, Nourishing Nail Masks penetrate the nails, leaving them strong, beautiful and moisturized. Includes an individual mask for each fingernail.

Each includes 10 fingernail masks.