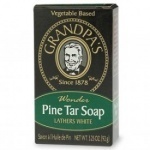 Grandpa's Pine Tar Soap (92 g / 3.25 oz) $4.59 USD Convert
AVAILABLE IN OUR SPA LOCATION IN VANCOUVER ONLY

Excellent for bathing, showering, shaving and shampooing. Many loyal users have been telling us for generations how wonderful it cleans, moisturizes and deodorizes. They have described it as being helpful in removing scales of Psoriasis, Dandruff, Eczema and other skin irritations.
Lathers White. No added colors or fragrances.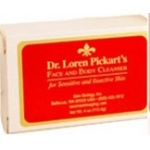 Skin Biology » Skin Biology Face Care

Skin Biology Dr. Loren Pickart's Face and Body Cleanser - Bar (113.4 g / 4 oz) $8.00 USD Convert
Start with a face gently cleansed with our specially designed cleansing bar. Unlike normal soaps, Gentle Clean has a pH near neutrality, contains no caustic or free fatty acids, and no chemical "flash foamers". Gentle Clean is a very gentle cleanser formulated for fragile skin. Effectively cleans and removes makeup.

Formerly called Skin Biology Gentle Clean Bar.