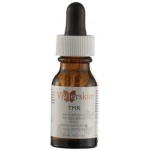 Vivier TMR Anti-Wrinkle Peptide Serum (15 ml / 0.5 floz) $85.00 USD Convert
This unique medical grade peptide serum helps reduce the appearance and recurrence of facial wrinkles such as furrow lines, smoker's lines and crow's feet. Wrinkles and fine lines are reduced without any paralysis or loss of natural expression. With regular use, skin becomes refreshed and rejuvenated. For prolongation of results, may be used in combination with BOTOX® and filler injections.

Formerly called Vivier TMR Topical Muscle Relaxant High Potency Serum.

1 Review!