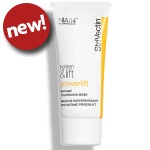 StriVectin Powerlift Instant Tightening Mask (50 ml) $59.00 USD Convert
See and feel tighter, firmer skin in just 10 minutes. Powered by breakthrough Silk Lifting Matrix Technology, this miracle mask acts as a second skin, adhering to facial contours as it dries to visibly lift slackened, sagging skin. Skin is instantly invigorated and feels dramatically firmer, even hours after rinsing off.


StriVectin Wrinkle Recode Line Transforming Melting Serum (30 ml) $89.00 USD Convert
Inspired by the revolutionary science of epigenetics, this high-tech serum with BioRecode Technology revitalizes skin's own wrinkle fighting abilities to reduce the appearance of deep, stubborn lines and creases. Super concentrated formula melts luxuriously into skin to visibly plump, smooth and restore youthful radiance.