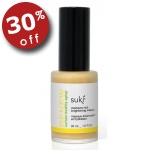 Suki Moisture-rich Brightening Masque (30 ml / 1 floz) $58.95 USD

$41.25 USD

Convert
We formulate moisture-rich brightening masque as your healthy, luxurious brightening treatment imparting nutritive hydration long term to your complexion when used in your weekly regimen. while toxic skin bleachers create small 'holes' in the skin, even tone brightening complex provides overall radiance for noticeably smoother, softer, more luscious skin.

Formerly called Suki Intensive Nourishing Masque.