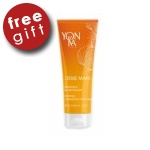 Free! Yonka Repairing Comforting Hand Cream (50 ml / 1.73 oz)

The Aroma Fusion Vitality line by Yon-Ka is enriched with the anti-stress and revitalising essential oils of Mandarin and Sweet Orange. This ultra- comforting hand cream nourishes and repairs the driest, roughest skin.
Free! Yonka Gommage 305 Dry or Sensitive Skin (50 ml / 1.8 oz)

True 4 in 1 action, this non-abrasive, botanical scrub gently removes dead cells, provides clarity for dull complexions, hydrates and balances the epidermis. Due to the Borneol and White Nettle, Gommage 305 soothes and purifies.