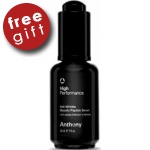 Free! Anthony Logistics High Performance Anti-Wrinkle Glycolic Peptide Serum (30 ml / 1 floz)

This anti-aging, and lifting serum is infused with three key peptides that work to instantly plump and relax deep lines and wrinkles. Buffered AHA's work to correct the appearance of sagging skin and improve the skin's overall health and texture. Algae extract helps repair and hydrate to jump start the skin's rejuvenation process.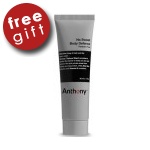 Free! Anthony Logistics No Sweat Body Defense (90 ml / 3 floz)

This unique no-mess, cream-to-powder formula is made with Tapioca Starch which provides a natural, non-talc alternative for a smooth, lightweight powdery finish. It is also enriched with Aloe Vera soothes and refreshes, Macadamia Nut Oil Extract which delivers superior moisture and glide, and Glycerin acting as a nourishing skin conditioner.