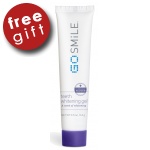 Free! Go Smile Teeth Whitening Gel - Trial Size (14 g / 0.5 oz)

Free gift with purchase of the Go Smile Dental Pro 2-in-1 Cleaning & Whitening System - Pink

This is a powerful teeth whitener that works as well as a separate whitening system, but without the extra time and hassle. Simply add it to your toothpaste as part of your daily routine! Hyperox™ technology penetrates into teeth, to remove even older, deeper stains. You'll get a beautiful white smile in just a couple weeks - and all you did was brush.