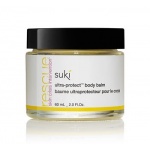 Suki Ultra-protect Body Balm (60 ml / 2 floz) $30.95 USD Convert
We formulate balm as your go-to multi-tasker, essential after daily exfoliation for problem skin. it works precisely because of it's won't rub off texture ("denser" than greasy salves) providing the moisture barrier dry, sensitive, troubled skin needs, & long-wear support between you & those environmental stressors.

Replaces Suki Butter Cream Healing Salve (60 ml / 2 floz).