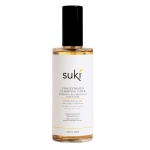 Suki Concentrated Clarifying Toner (100 ml / 3.4 floz) $36.55 USD Convert
We formulate toners as essential, deep-delivery systems for proprietary suki® botanic complexes & patented TLC actives, to integrate with & prepare skin for serums & moisturizers to perform at their highest levels. "clarifying" is your all-day multifunctional wonder to use anytime you need flawless complexion balancing.

Formerly called Suki Concentrated Balancing Toner.

1 Review!