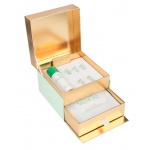 Valmont Regenerating Mask Treatment (Collagen-Mucopolysaccharides Complex Mask) (5 Treats) $413.15 USD Convert
This skin-firming, 100% collagen mask is like a "biological face-lift." Thanks to its combination of active ingredients, it helps reactivate the skin's deficient natural functions. Form the very first apply, the appearance of the upper layers of the skin is visibly and lastingly improved. Skin instantly recovers its natural resilience, suppleness and radiance.

Also known as Valmont Regenerating Mask Treatment.

1 Review!