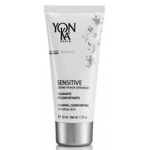 Yonka Sensitive Creme (50 ml / 1.72 oz) $82.00 CAD Convert
This calming and comforting cream was formulated to respect the fragile nature of sensitive and hyper-reactive skin. Skin tolerance in the face of aggressive environmental factors responsible for dryness (wind, cold, air conditioning), is improved over time. The feeling of discomfort (tautness, itching) is instantly and durably appeased, with Sensibiotic Complex.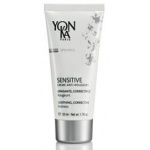 Yonka Sensitive Creme Anti-Rougeurs (50 ml / 1.76 oz) $82.00 CAD Convert
This anti-redness soothing cream with natural green pigments instantly reveals a more even complexion (CC effect: corrective color). Over time, it visibly improves the appearance of redness and relieves any discomfort caused by skin reactivity (tautness, itching), with centella asiatica. It soothes and hydrates skin for a more comforted and soft feel.

Suggested replacement for Yonka Creme 11.