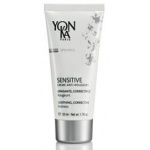 Yonka Sensitive Creme Anti-Rougeurs (50 ml / 1.76 oz) $76.00 CAD Convert
This anti-redness soothing cream with natural green pigments instantly reveals a more even complexion (CC effect: corrective color). Over time, it visibly improves the appearance of redness and relieves any discomfort caused by skin reactivity (tautness, itching), with centella asiatica. It soothes and hydrates skin for a more comforted and soft feel.

Suggested replacement for Yonka Creme 11.