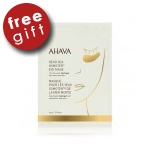 Free! Ahava Dead Sea Osmoter Eye Mask (1 pairs)

'On-the-spot' hydrogel eye repair patches to instantly revive the overall look of your eyes. In just 10 minutes, the gentle skin around the eyes feels extra supple, fresh and soft. The eye mask is infused with concentrated Osmoter™, AHAVA's exclusive natural Dead Sea mineral composition. It elevates moisture to its optimum level, smooths dry lines and wrinkles, minimizes fatigue signs, creating more vibrant, rested eyes.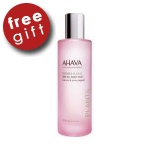 Free! Ahava Dry Oil Body Mist - Cactus & Pink Pepper (100 ml / 3.4 floz)

A spray-on dry oil that provides skin with a new smoothness and enduring radiance, while pampering with a feminine, uplifting scent.