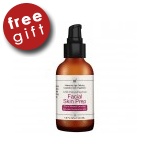 Free! Janson Beckett Peptide Facial Skin Prep with Trace Minerals (118 ml / 4 floz)

Using AH3 HexaPeptide Facial Skin Prep in combination with our HexaPeptide products will dramatically improve and accelerate your results. Fine lines and depth of wrinkles are diminished – leaving skin soft, supple, resilient, and appearing years younger.

Also known as AH3 Facial Skin Prep.