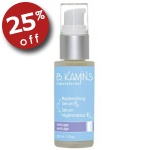 B Kamins Replenishing Serum Kx (30 ml / 1 floz) $100.23 USD

$75.17 USD

Convert
This rejuvenating nighttime serum helps smooth and hydrate wrinkled, slackened skin. An array of potent ingredients are delivered to the skin to help combat the signs of aging while sophisticated technology retains the ingredients for up to 24 hours to ensure the effectiveness of the formula. Works while you sleep to deliver a deep, long-lasting surge of hydration to the skin.

Replaces B Kamins Therapeutic Replenishment Serum (30 ml / 1 floz).