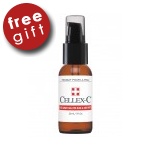 Free! Cellex-C Fade Away Gel (30 ml)

A green-tea-colored, oil free, aqueous solution containing the full complement of Cellex-C Complex signature plant glycosides. Dramatically lightens the appearance of sun and age spots using only plant phyto-chemicals. Hydroquinone-free.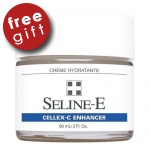 Free! Cellex-C Seline-E Cream (60 ml / 2 oz)

Seline-E Cream is a smooth, rich moisturizer, perfect for night-time application over Cellex-C Serum. Seline-E's powerful combination of anti-oxidants -- vitamin E, selenium and bioflavonoids -- enhance the potency of vitamin C and provide anti-oxidant moisture protection for the skin, day or night.