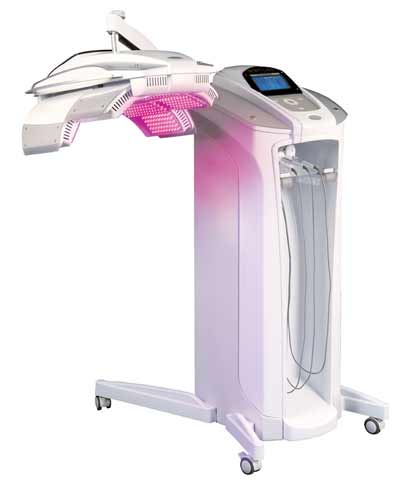 LumiLift® $120 - 1 hour

Treatment, ideal for lifting face, eyes, and chest. Minimizes lines and wrinkles and lifts and tones the facial contours. Especially effective for sagging jowls and naso-labial folds.

The LumiLift® treatment is a complete photo-rejuvenation procedure that combines the effects of Light energy, Micronized currents and HF Polarized currents to produce skin rejuvenation that is safe, comfortable, and effective.

Aging occurs on three levels: epidermal, dermal, and in the muscle tissue beneath, producing dehydration lines, dull and lifeless complexion, expression wrinkles, deep wrinkles around the lips, frown lines, sagging jowls and naso-labial fold. Soli-Tone reaches down into all three levels to rejuvenate skin tissue and lift muscles, erasing years... something that light alone cannot do.

The Soli-Tone photo-energy system is a unique, leading-edge technology that allows the CRMC to offer this light-based skin therapy . As seen on Oprah and the Today Show this machine produces light energy that penetrates the skin at different levels to rejuvenate skin easily and quickly. Light Therapy is non-invasive, gentle healing energy that stimulates the cells' function and repair mechanisms, unlike Intense Pulsed Light and Lasers that rely on thermal injuries to prompt the skin to repair itself
What is exactly the LumiLift® procedure?
The LumiLift® procedure is a revolutionary way of rejuvenating the skin and lifting sagging muscles. It is performed with two (2) special electrodes that feature an advanced application of Micronized current, HF polarized current and light energy.
During the LumiLift® Photo rejuvenating treatment, a pulsating light is directed at the skin surface. Light passes through the layers of the skin and penetrates into the dermis. This powerful light stimulates the fibroblast cell to produce more collagen. The increase production of collagen smoothes and softens the appearance of wrinkles, reduces the size of pores, and improves skin texture. At the same time, the electrodes emit Micronized currents to tone and life sagging muscles.
At the end of the treatment, an antioxidant product is infused into your skin using two special electrodes to smooth away facial creases.
How new is this Technology?
This technology was discovered by NASA initially and has been used to treat wounds in outer space as a result of it's ability to produce collagen and heal tissue. Research has been conducted over a period of 5+years. They have since learned that "extreme" super luminous diodes (vs. super luminous diodes used in various other systems ) can increase collagen production by 5 fold. Up to now, Photo rejuvenating treatments targeted individual problems. Soli-Tone is the first treatment device to combine two proven technologies: Light energy and micro currents to treat conditions in the epidermis, dermis, and muscular levels of the face, chest and hands without discomfort. This system treats the skin from the inside-out. Various benefits include lifting, firming, tightening, even skin tone, pigment reduction, improve acne, minimize wrinkles etc. Results are cumulative and a series is typically recommended for maximum benefits.
How long will the effects of the LumiLift procedure last?
Improvements continue for a minimum of three (3) months after a single session. Results are cumulative as fibroblast production CONTINUES to occur as a result of the photo-energy stimulation. After completing a series, depending on the rate of the aging process, changes can last over one year. A good skin care regimen combined with a monthly maintenance treatment is sufficient to enhance and maintain the result of obtain with the LumiLift® treatment.
How does this differ from Microdermabrasion or Peels?
This system is very effective for treating many conditions. However, exfoliation is still "key" to remove the dead skin cell layers to promote a healthy glow, allow for greater product penetration, and to renew the very outer layer of the skin. Facials, Peels or Microdermabrasion are still highly recommended at 4 week intervals in order to generate newer healthier skin cells. Both stimulate collagen product and improve skin texture. They compliment and improve the efficacy of the photo rejuvenation system.