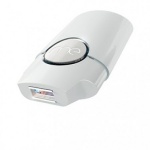 Me Chic $152.25 USD Convert
The Me Chic Compact Permanent Hair Reduction Device uses patented technology clinically proven to be safe and effective on all skin tones, even dark, and the widest range of hair colors, even blonde.

Compact, professional, at-home hair removal technology in the palm of your hand. Small and lightweight, the chic is convenient to use both at home and away – treat targeted areas in just minutes. With dermatologist recommended technology, the chic Compact Permanent Hair Reduction Device uses FDA-cleared technology that targets and permanently disables the hair follicle to stop hair growth on small areas, like the face, underarm, or bikini area, for permanent results.