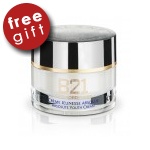 Free! Orlane B21 Extraordinaire Absolute Youth Cream (9 ml)

This is a true This is a true "Haute Couture Haute Couture" "Haute Couture" cream that provides " cream that provides extraordinary results that are immediately visible on the face. Our unique formula resets the skin to a more youthful, healthy state by creating a protective bubble around each cell protective bubble around each cell -providing the - providing the perfect conditions for the regeneration of healthy skin. Used regularly, our exclusive formula reinforces this effect over time, delivering a radiant complexion, noticeable blurring of wrinkles and stains as well as visibly improved skin quality.

An active defense system preserves the youthfulness of the skin by eliminating all of the silent aggressors that cause accelerated aging (toxins, stress and free radicals)
A global skin care product with a constant source of renewal for all skin types and all ages.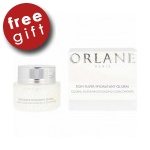 Free! Orlane Global Super – Moisturizing Concentrate (7.5 ml)

Orlane Global Super – Moisturizing Concentrate leaves the skin feeling smooth and comfortable. Skin is hydrated, protected and has a smooth, radiant appearance. A Dual-action formula, which cocoons and shields the skin while repairing it and fighting against aging.