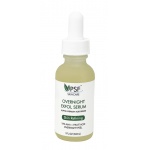 PSF Pure Skin Formulations Overnight Exfol Serum (30 ml / 1 floz) $32.00 USD Convert
This lightweight oil-free/alcohol-free exfoliating serum helps to minimize the appearance of fine lines and pores while smoothing, brightening & evening the appearance of dull, dry skin. Gentle Alpha Hydroxy Acids (AHA) and Fruit Acid Extracts combine to create an effective yet gentle overnight peeling treatment. Antioxidant & anti-inflammatory herbal extracts help to protect against environmental stressors , sooth & calm for for a healthy, flawless complexion. Perfect for dry or sensitive skin types. If you are new to acid exfoliants or cannot tolerate the burning of glycolic acid products, this is the AHA product for you. Wake up to new skin!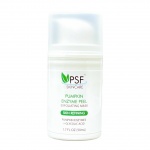 PSF Pure Skin Formulations Pumpkin Enzyme Peel in Pump (50 ml / 1.7 floz) $27.00 USD Convert
This delicious mask combines the exfoliating power of glycolic acid with natural, active pumpkin enzymes to create an effective peel that is safe enough to do right in your home! Exfoliate dead skin cells to reveal smoother, younger looking skin. This easy one-step peel rinses right off with no neutralizing, no burning, no flaking or redness. Smells like freshly baked pumpkin pie!