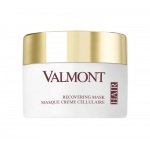 Valmont Hair Repair Recovering Mask (200 ml / 7 oz) $130.07 USD Convert
A real SOS treatment for hair that has suffered from time or aggressive styling techniques, RECOVERING MASK restructures the hair from within. The scalp is stimulated, the lengths and tips lipidated and protected against breaking and split ends. Fortified and stronger, the hair is soft, shiny and full of energy. The benefits are felt immediately and increase with use. Instantly becoming easier to untangle, the hair is restructured over the long term.

Replaces Valmont Hair Repair Restoring Mask (200 ml / 7.0 oz).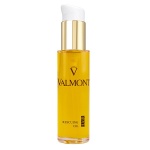 Valmont Hair Repair Rescuing Oil (60 ml / 2 floz) $95.64 USD Convert
Valmont Hair Repair Rescuing Oil is a Pre-treat for the hair which can be used as a pre-shampoo, deep conditioning oil bath or as a leave-in touch on the ends. 100% of botanical oils (sweet almond, calendula, soya, sunflower). Brings all the omegas the hair needs to be beautiful. Restructures and repairs hair from within. Repairing and nourishing the hair. Soothes irritated scalp. Restores suppleness and softness.