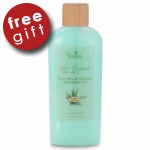 Free! Shira Shir-Organic Pure Aloe & Ginseng Anti-Fluid Gel (250 ml)

This Anti-Fluid Gel helps to relax and comfort the body by cooling the skin, easing discomfort and allowing swelling to diminish. It releases excess fluids thereby reducing inflammation and bloating, resulting in increased comfort and sleekness. It also diminishes aches and pains to restore feelings of health and wellness.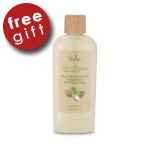 Free! Shira Shir-Organic Pure Shea Butter & Peppermint Firming Cream (250 ml)

This highly nourishing formula rich in Shea Butter, Cocoa, Algae and Botanical Extracts is specially designed to increase circulation, replenish lost minerals and enhance skins hydration, elasticity and tone.