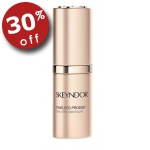 Skeyndor Timeless Prodigy Eye Contour (20 ml) $134.58 USD

$93.72 USD

Convert
Global ultra antiageing eye contour for daily application with more than ten powerful active agents, such as growth factors, proteoglycans, white Piedmont truffle and the revitalising power of 50 million Damask Rose stem cells. Improves skin quality, wrinkles and firmness. Redensifies, moisturises and detoxifies the skin, resulting in a radiant expression.

Included in THE GLOBAL EYE RITUAL, the progressive action of an ultra antiageing ritual to treat the delicate area around the eyes. Ideal for combating global ageing, softening wrinkles, re-firming the eye contour and reducing eye bags and dark circles.