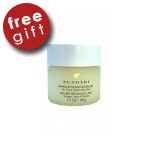 Free! Sundari Makeup Remover Balm (48 g / 1.7 oz)

Triple Action Nurturing formula that removes mineral, water and oil based foundation, mascara and lipstick. Use on face, eyes and lips. Natural oils nurture the skin while the balm melts to remove makeup gently and thoroughly.

Experience intense moisturization of Walnut Seed Oil, Shea and Mango Butter as the balm melts to dissolve foundation, lipstick and eye make-up.