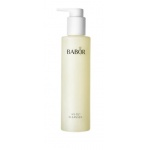 Babor Cleansing Hy-OL (200 ml / 6.75 floz) $32.85 USD Convert
A plant-based hydrophilic cleansing oil for the gentle bi-phase deep-cleansing of the skin. MUST be used in conjunction with the phytoactive to suit the specific skin type or condition, it removes oil-soluble and water-soluble dirt particles in two separate cleansing phases.

Replaces Babor Hy-OL Cleanser (200 ml / 6.7 oz).