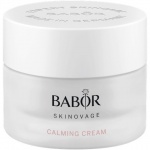 Babor Skinovage Calming Cream (50 ml / 1.75 oz) $69.95 USD Convert
Calming Cream is a facial cream specifically formulated for sensitive skin, is fragrance free and helps reduce irritations and stress related redness. This cream helps strengthen skin's natural protective barrier, while helping improve the skin's natural irritation threshold. Calming Cream also helps to protect the skin against signs of premature aging. Skin has a more even and calm appearance that feels soft and supple.

Replaces Babor Skinovage PX Calming Sensitive Daily Calming Cream (50 ml / 1.75 oz).