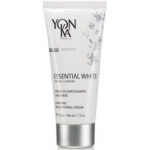 Yonka Essential White Unifying Brightening Cream (50 ml / 1.7 floz) $98.00 CAD Convert
A silky cream to brighten and unify the complexion

This powerful yet silky brightening daily treatment is the key element of your fight against dull and uneven complexion as well as dark spots. Its truly innovative formula features a patented and extremely efficient active ingredient, time –defying Vitamin C, which will deeply control the melanogenesis process. As a result, this most efficient Vitamin C will correct dark spots and prevent new pigment spots from developing. Meanwhile, anti-aging and hydrating ingredients will provide ultimate comfort and a smoother look. In just a few weeks, the complexion is unified as discoloration is drastically reduced. Now protected, your skin glows with new-found brightness, and remains perfectly balanced.