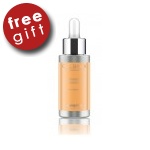 Free! Swiss Line Cell Shock Age Intelligence Radiance Booster (20 ml)

A flash of positive energy and freshness, this booster envelops the skin in the goodness of Vitamin C, toning the skin, reversing photo aging and making the complexion look younger and more vibrant. The key ingredient, Stay-C® 50,registered as a quasi-drug in Japan, has been clinically shown to reverse the signs of aging and brighten the skin. Like the other Age Intelligence Boosters, it has been formulated to mix into anything we can call skincare.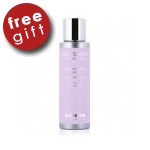 Free! Swiss Line Cell Shock Age Intelligence Resurfacing Water (100 ml)

Effortlessly transform the look, feel and condition of your skin with this remarkable toner. The plant cells and soy proteins in the formula increase the skin's ability to breathe, preserve energy and metabolize more effectively. Glycolic acid, present at 10% - the highest possible strength in a final formula - with a pH low enough to retain its full effect, delivers a progressive at-home peeling. For Glowing, Refined, Beautiful Skin.