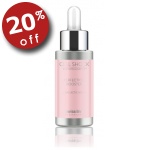 Swiss Line Cell Shock Age Intelligence Perfection Booster (20 ml) $108.64 USD

$86.92 USD

Convert
RESURFACING – REFINING PORES – SMOOTHING LINES

Reducing imperfections, this booster resurfaces, refines pores and smooths lines to create a fresh, radiant complexion. It contains Lactic Acid, a powerful AHA, which exfoliates the skin to reveal a thinner, smoother grain. Like the other Age Intelligence Boosters, it has been formulated to mix into anything we can call skincare.

Caution: Use only as directed. Avoid contact with the eyes. If irritation persists, discontinue use and consult a physician. It is recommended that prior to exposure to the sun, users cover areas where AHAs have been applied with sunscreen. Contact of the product with the skin must be of limited frequency or duration.